top




Some notes on constructing your own "Scaling the Universe" desktops.

Here are some miscellaneous notes on constructing your own "scale desktops".
If there is interest, I can expand.

Things you can do...
Models of your favorite things
A virus (softball with spikes), pollen, whale, school, state, whatever.
Remembering to start approximate - hand-waved sizes and any-circle-will-do sketches, blob-of-clay buildings, and spherical cows. :)
Tabletops
Centimeter-grid sheet with outline sketch of hands, cans, etc. (1mm/mm)
Neighborhood map sketch (1m/mm), a 1:1M map (1km/mm), an Earth-Moon region sketch (1Mm/mm), ...
Desktop "pivot" objects every 103 units.
~1 nm benzene ring, ~1 um bacteria, ~1 mm sugar grain, ~1 m table, ~1 km neighborhood, ...
Growing familiar with meters
Millimeter rulers, and graph paper. Cm and dm grid drawing paper. 100 mm cubes of straws and putty. 10 mm unit cubes. Meter cubes of string and straw hanging from ceiling. Meter grid on ceiling of thread and putty. Meter grid of chalk on playground.
Size shifting games
On millimeter-grid graph paper, trace objects (fly, pencil, etc). Then on meter-grid playground, `standing on the graph paper', hold hands or lay rope in outline of objects.
If the tall building is a hair, then van is a bacteria and the baseball is a virus.
Order-of-magnitude reference objects
Order 1, 10, 100, and 1000 mumble-meter reference objects.
Eg, for micrometers, we have ~1 um bacteria (sugar grains), ~10 um red blood cell (M&M), ~100 um hair diameter (poster tube), and ~1000 um sugar grain (packing box).
The curve of Cape Cod is ~100 km out from Boston.
Personal size referents
The outline of one's hand, one's forearm. Whatever you like (pencils, pennys, a book, a bag, a box, ...).
Rulers for alternate units, and some physical properties.
Mils, inches, feet, miles. Parsec and AU. Speed of light. Of sound.
If you are a millimeter tall...
then you have micrometers in your hands.
The eye of a sewing needle is a doorway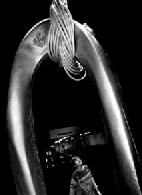 src
to a grove of hair "trees"
src
made of poster tubes, or pipe insulation,
or rolled-up newspaper,
or those long pool float things.


100 um diameter
A few mm apart.
where we can snack on
M&M red blood cells


10 um
The "Mini-M&M" brand is better sized,
but one can buy red standard ones in bulk.

src
while walking a bacteria "sand" beach.

Notes:
  The `needle eye doorway' photo is from a New York Hall of Science exibit.
  The `hair' photo is from LANL's Electron Microscopy Laboratory,
    but I can't find it's current location there.

Doables:
  So much...
  A big mm rule in micrometer land.

History:
  2003-Feb-03  Fixed links - 2 repaired.
  1999.May.04  Created.